Energy Hockey is in it's 10th year of operation. Energy Hockey offers instruction for players of all ages and all skill levels. We provide team sessions, private instruction and year round hockey camps. Energy Hockey is committed to the improvement of team and individual skills. We offer power skating and puck skill development as well as goalie instruction and game skills development.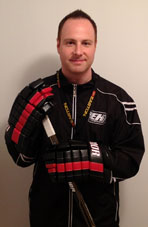 Director- Chris French
– Jr. B Orangeville Thunder
– 18 years hockey training experience at all levels and ages.
– 10 years coaching experience in the OMHA, GTHL and Pro Hockey Development (3 years select 6's and 7's program and 7 years AAA).
– 8 years as the Director of Energy Hockey
– Head Coach of the 2006 Pro Hockey Development "Team Brick"
– 6 years as a head instructor with Varsity Hockey School
– 3 years as a head instructor with Pro Hockey Development
– 7 years as the head instructor of the BYHA Hockey School/Development Program
I have been training young hockey players of all levels and ages for the last 17 years. Our goal at Energy Hockey is to improve player and team skills to prepare them for the next level, whatever it may be!

Blair McTrach
Head Goalie Instructor
Our goalie coach program has a long and successful track record of providing his goaltending students with solid foundations. Blair tailors sessions to the goalies' needs, with an extensive knowledge and his eye for detail and will provide coaches with the latest in learning resources. Blair has worked with goalies at the level of college and junior level. His wealth of coaching experience is based on an abundance of passion and energy that he brings to every training session. Blair has been committed to Energy Hockey for the past ten years and he has provided our students with outstanding leadership and guidance.
Matt Zultek
Instructor
Drafted by the Los Angeles Kings, 1st round, 15th overall, 1997 NHL entry draft
Drafted by the Boston Bruins, 2nd round, 56th overall, 1999 NHL entry draft
Junior A Caledon Canadians
OHL Ottawa 67's
AUS St. Thomas University
AHL Philadelphia Phantoms, Springfield Falcons, Manitoba Moose
ECHL Trenton Titans, Greenville Grrrowl, Toledo Storm
CHL Rapid City Rush
SPHL Mississippi Surge
NATIONALLIGA (Europe) Dornbirner EC
Head instructor/Director Competitive Edge Hockey School     (New Jersey)
Shooting Instructor with Rick Heinz Goalie School and Johnny Bower Hockey School
Instructor with Cindy Bower Power Skating School

Benny Loughlin
Instructor
Junior B St. Catherines Falcons
Brock University Badgers
12 years as Head Instructor/Strength and Conditioning Coach with Varsity Hockey School

Adam Stevens
Instructor

Humber College Hawks
18 years hockey training experience at all levels and ages
5 years coaching experience in the OMHA (Brampton) and Pro Hockey Development
2 years Brampton select 6's and 7's program and 3 years AAA
9 years Instructor Energy Hockey
3 years assistant coach with Pro Hockey Development AAA
5 years as a head instructor with Varsity Hockey School
4 years as a support instructor and 2 years as a head instructor with the BYHA Hockey School/Development Program (6 years)

Kristopher Bennett
Instructor
Saginaw Spirit
OHL Saginaw Spirit (2012 OHL Draft Pick, 3rd round, 50th overall)
Junior A Oakville Blades
3 years instructor with Energy Hockey

Ross Smith
Instructor
Junior A Bramalea Blues (Captain) and Georgetown Raiders
12 years head instructor with Varsity Hockey School and Energy Hockey
3 years coaching experience with the GTHL AAA Mississauga Senators and the Toronto Jr. Canadians

Christopher Nolan
Instructor
Hobart College D1 NCAA Lacrosse
Junior B Brampton Excelsiors Lacrosse
Prep School Scholarship with Trinity-Pawling (New York)
3 years instructor with Energy Hockey
Graduate prep school student/active lacrosse player

Chris Cull
Instructor
Cambrian College Golden Shields
Junior A Sudbury Northern Wolves
Senior A Brussels Crusaders
7 years head instructor with Energy Hockey
3 years coaching experience with GTHL AAA and OMHA AAA Mississauga Senators and Brampton Battalion
OMHA Referee

Paul Noonan
Instructor
Junior A Brampton Capitals and Oakville Blades
OUAA Ryerson Rams
5 years head instructor with Energy Hockey
6 years coaching experience with Georgetown/Halton Hills Minor Hockey

Craig Nelson
Instructor
Junior A Bramalea Blues and Brampton Capitals
OHL Sault Ste. Marie Greyhounds and Kitchener Rangers
WPHL Monroe Moccasins, Waco Wizards and San Angelo Outlaws
ECHL Louisville Riverfrogs
BNL (Europe) Paisley Pirates, Fife Flyers, Dundee Stars
Director of Player development-OHL Kingston Frontenacs
5 years head instructor with Varsity Hockey
3 years head instructor with Energy Hockey
4 years coaching experience with Orangeville Minor Hockey and Mississauga Senators GTHL AAA

Ashley Shaidle
Instructor
Ohio Flames Hockey (Assistant Captain)
Clarkson University D1 NCAA Hockey (assistant captain and all-time leading scorer)
2 years experience coach and recruiter with Union College D1 NCAA
1 year coaching experience with girls under 16 Brampton
10 years hockey school instructor experience with New England Hockey Pro (Vermont University), Prospects Hockey (Toronto), Rhode Island Hockey Camp, Men's Union College Youth Hockey Camps, Katie Weatherson Hockey School (Olympic Gold Medalist) and numerous skill development camps in Kenora, Kanata and with Ottawa University

Eddie Bajus
Instructor

Dan Karolidis
Instructor
Ellio Roppa
Instructor